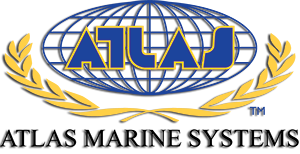 Atlas supplies, to the yachting community, solid-state frequency converters from its ShorPOWER® product line as a means of achieving clean and reliable onboard power from a dockside connection -- anywhere in the world. This conditioning of dockside marina power can be done without any type of power interruption. With a ShorPOWER® installed on your yacht, if you choose correctly, you'll never again be concerned about whether the dockside power is 50 Hz or 60 Hz. It won't matter if the available dockside voltage is 208 volts, 240 volts, 380 volts, 480 volts, single-phase or three-phase. That's because the ShorPOWER® frequency converter product line offers automatic conversion of any dockside power source, anywhere in the world, into power tailored to your yacht's specific electrical requirements.
The Atlas ShorPOWER® product line represents the broadest offering of this type of equipment available in the world. Its Classic Series is the world's most prestigious product providing state-of-the-art performance and the maximum in protection against high voltage surges which often exists dockside. This protection is maximized by the inclusion of a second transformer stage of isolation..
For customers who are more cost-conscious, the SPA Series offers worldwide dock connection but without the extra measure of dockside protection.
The Ultra Series is the most economical solution but has limited worldwide dockside connectivity or dockside protection. Size and weight are also tradeoffs when selecting just the right combinations of features. Regardless of selection, you can be confident of an Atlas ShorPOWER® frequency converter's reliability.
---
Model Selection Table
| ShorPOWER Features | ULTRA LV Series | ULTRA HV Series | CLASSIC III Series | SPA II Series |
| --- | --- | --- | --- | --- |
| Power Range (Phase) | 12 - 50 kVA (1 or 3 phase) | 50 - 750 kVA (3 phase) | 100 - 600 kVA (3 phase) | 37.5 - 90 kVA (1 or 3 phase) |
| Single Cabinet | | | | |
| Modular Cabinet | (3pcs) | (3pcs) | (5pcs) | (3pcs) |
| Input Voltage Range | Low or High | High | Low and High | Universal |
| Dual Cord Option Available | (Limited) | (Limited) | (Smartbox) | (Universal either input) |
| Acquisition Cost | Low | Low | Moderate | Low |
| Installation Cost | Low | Moderate | Moderate | Low |
| Install Footprint | Moderate | Small | Moderate | Small |
| Parallel Option | | | | |
| Seamless Transfer Option | | | | |
| CDL Option | | | | |
---
As a further guide in deciding which configuration best fits your on-board needs, consider the following:
New Construction
Atlas encourages designers to incorporate a three-phase power distribution system whenever possible. Three-phase wiring simplifies power distribution, reduces wiring, and is the most commonly used configuration in modern commercial and industrial facilities.
Many yachts are configured with a single-phase electrical distribution system and its associated disadvantages, because smaller marinas only offer single-phase dockside power. But, with a ShorPOWER® system on-board, your yacht becomes phase independent; you no longer worry about phase configuration, voltage, or frequency. The ShorPOWER® takes the worry out of your world; it allows you to go wherever you wish, without having dockside power as a concern.
There are several reasons why three-phase on-board systems are recommended. Three-phase motors are more efficient than single-phase motors -- they are smaller and lighter, and they do not require failure-prone starting capacitors and relays. Equally important, three-phase systems allow the use of smaller and lighter HVAC systems, water purification systems, generators, and other high power equipment.
Refit Construction
For existing yachts, the problem of power compatibility is compounded by a lack of space. Prior to the development of ShorPOWER® frequency converters, there were no easy single-source solutions. The ShorPOWER® product line is available in a unique alternative modular design, and Atlas offers these systems in multiple modules to fit even the most confined spaces.
Atlas can provide a system to fit into the confined spaces of your yacht's engine room, lazarette, closet, or any other available space. Remember that the space occupied by the existing, but no longer needed, isolation transformer(s) and voltage regulator(s) would now be available for the frequency converter.
The selection of an appropriate ShorPOWER® system begins with an assessment of your yacht's power requirements and space availability. Weight distribution is often a key concern. Atlas system design engineers can determine the modular configuration that best fits your special needs..
Value Added
With an Atlas ShorPOWER®, you will have the solution that provides unrestricted dock connectivity mobility for your yacht and adds immeasurably to its resale value in the world marketplace.
Quality Power
Second-rate power has no place in your first-class yacht. An Atlas ShorPOWER® system is your assurance of simple, reliable power conversion at any marina in the world. With a ShorPOWER® system, you will never again be concerned about low voltage at dockside damaging your onboard equipment. Precise regulation maintains the output voltage of the Atlas ShorPOWER® to an exacting standard, while the dockside voltage varies due to sags, and contains spikes and surges that are so often present from dockside power sources, when used directly.
Increased Capacity
Your world-class yacht may very well demand more power than is available from a single shore cord. The Atlas ShorPOWER® Classic and SPA Series units can be configured to accept multiple, single or three-phase shore cord, thus increasing the power to your yacht as a factor of your demand, rather than being limited by the rating of a single marina power outlet. All of this is possible without having to worry about phase, frequency, or voltage.
The Atlas Advantage
The Atlas ShorPOWER® line of frequency converters provides the latest state-of-the-art IGBT Power Module technology, combined with the advantages of a pulse width modulated (PWM) control system. Additionally, ShorPOWER® systems are packaged using techniques developed in the Defense Aerospace markets, resulting in products that have the smallest footprint, lightest weight, and easiest to install -- all at an ownership value matched by none.